Boreas Quartett Bremen and Dorothee Mields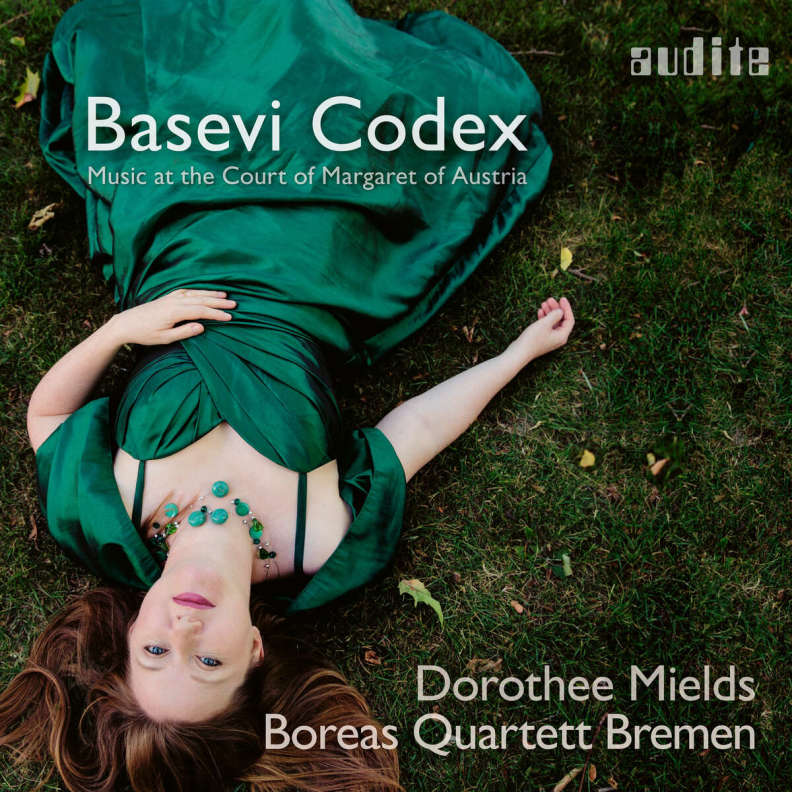 Einige sehr schöne Besprechungen zu unserer aktuellen CD mit Renaissance-Musik aus dem Basevi Codex:
"...wenn es um Musik dieser Zeit geht, ist Dorothee Mields so etwas wie das Maß aller Dinge. Mit ihrem berückend schönen Sopran lässt sie den Klang dieser Epoche wieder lebendig werden: vibratolos, aber höchst facettenreich, klanglich makellos und ungemein differenziert. Begleitet wird sie vom formidablen Boreas Quartett, das seinerseits Maßstäbe für Blockflötenensembles setzt. Ihr vollendeter Ensembleklang spiegelt das vokale Ideal dieser Zeit in kongenialer Weise wider." Crescendo (01.09.2021)
"Die vier Flötistinnen des Boreas Quartetts um Dorothee Mields verblüffen mit der Kunst, buchstäblich atemlos zu musizieren. Man hört nicht, wie der Ton erzeugt wird, er ist einfach da, wie eine eigene Realität und die Musik beginnt jazzig zu swingen. […] Die Musik klingt nicht mehr abstakt, sie hat etwas zu sagen, sie spricht. […] Eine mitreißende neue CD und eine echte Entdeckung." SWR (27.09.2021)
"You are about to hear some of the most beautiful recorded sounds that I've heared in a long time. […] It's just a very, very good concept and it shows off some wonderful music very very well." BBC Radio 3 (16.10.2021)
"Margarete hätte eine Riesenfreude am Musizieren dieser fünf Frauen gehabt." Süddeutsche Zeitung (30.08.2021)
"Weil Blockflötistinnen und Sopranistin so fein aufeinander abgestimmt intonieren und phrasieren, können Grenzen verschwimmen. Der Horizont wird sehr weit, wenn diese archaische Musik so stilsicher gesungen und gespielt wird. […] Diese überaus gelungene Einspielung macht neugierig auf mehr." NDR Kultur (16.09.2021)
"Mit der Sopranistin Dorohtee Mields konnte eine großartige Spazialistin für diese intimen Klänge gewonnen werden und die Schönheit ihres Gesanges mischt sich auf perfekte Weise mit dem Klang der Blockflöten – das Boreas Quartett Bremen stellt hier wieder einmal unter Beweis, dass es unbedingt zu den führenden Ensembles dieser Art gehört. Ein beglückendes Album in musikalischer Hinsicht und ein großartiges historisches Zeugnis seiner Zeit." Radio Bremen (02.10.2021)
"Mields kann nicht nur mit einer klaren und reinen Stimme punkten, sondern eben auch mit einem unverwechselbaren Timbre. Dadurch bekommen diese Renaissance-Kompositionen ein Flair, das immer wieder aufs Neue berührt." Das Opernglas (01.11.2021)
"Die Aufnahme überzeugt von ihrer Klarheit, der empathischen Interpretation und der wundervollen und einfachen Reinheit der Musikkompositionen. Renaissance von ihrer schönsten Seite." www.kultur-port.de (27.07.2021)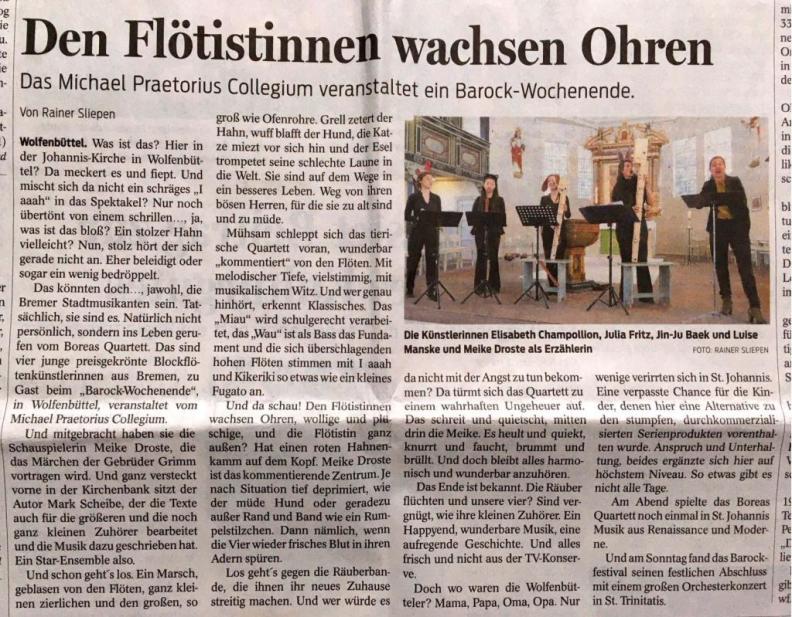 Braunschweiger Zeitung, 30.09.2019
Zu unserem Familienkonzert "Die Bremer Stadtmusikanten".
About our new CD with music by Christopher Tye: "One hour packed with a brilliant amalgam full of affects, atmosphere, colors, composition and polyphonic techniques, harmonies, tempi... The interpretation of the scores shows a deep understanding and empathy. The choice of recorders is always convincing, it even seems to be the only true and possible solution, even though it is theoretically possible to imagine other combinations as well. The style of playing is very accurate, the tempi are in consistent with the scores, the high flutes are never shrill, the bass flutes purr like cats, and the final chords stand firm and solid like a house."
Koen Dieltiens, in "Blokfluitist", volume 8, N. 2
"Four recorders, four personalities, four timbres. The quartet plays full of spirit, with the highest virtuosity and varied tempi, savouring the boundless possibilities of the polyphony. A great pleasure thanks to a perfect ensemble performance."
Wolfenbütteler Zeitung, April 11 th , 2016
"The examples of the wide variety of sound colors, the flexibilty of the recorder and its virtuosity, impressed the audience of young and old people: the music can be swinging, vivid, or dramatic, if only the affects are made clear enough. With the Boreas Quartett, the polyphonic constructions of the concert sounded like four parts out of four hearts and came together in a skillful play of retreating and emerging the musical lines."
Rheinische Post, January 26 th , 2016 (Kleve)
Musicians providing exciting dialogues
"Not only through charming appearance, striking virtuosity, perfect intonation and accurate playing; Jin-Ju Baek, Elisabeth Champollion, Julia Fritz and Luise Manske conveyed such lively expression, freshness and spirit that one enjoyed every single minute."
Schwarzwälder Bote, February 2 nd , 2016 (Balingen)

"Perfectly harmonized did the musicians lead their audience from one highlight to the next, playing music of the renaissance, baroque, and modern period. While the old pieces touchedthe souls, the more recent ones reflected the rhythm of our times, like digital computer sounds. The numerous listeners were completely thrilled by this outstanding concert, which showed from the long and forceful applause."
Andelfinger Zeitung, October 2014

"For two weeks Bonn was under the sign of the German National Music Competition (DMW) that took place for the 40 th time. The scholarship-holders of the DMW presented themselves at the forum of the Beethovel hall on the evening before the laureates' concert.Outstanding on that evening was the Boreas Quartett that enchanted us with quadrophonic surround sounds of very early and very modern music."
www.general-anzeiger-bonn.de, April 7 th , 2014

"Professor Doctor Harald Vogel introduced the award-winning Boreas Quartett Bremen as a "living organ". The four young musicians were invited by the Arp-Schnitger-Gesellschaft to play a concert in the Bartholomäus church in Golzwarden. They gave a first-class concert, exploring the sound possibilities of their instruments to the very limits, and they elated the audience with their vivid expressivity, outstanding technique, perfect intonation and incredible precision in interacting."
Kreiszeitung Wesermarsch, May 20 th , 2014